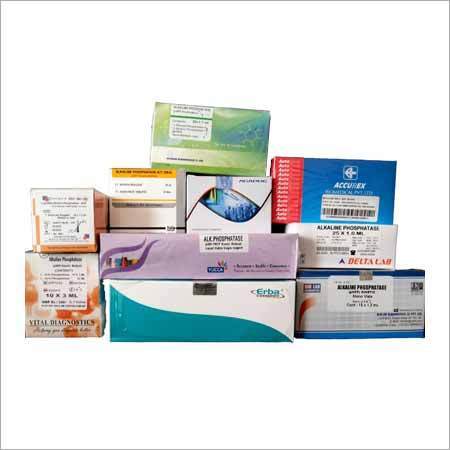 Alkaline Phosphatase Kit
Product Description
Alkaline Phosphatase Kit
Introduction:
AutoZyme Alkaline Phosphatase is a reagent set for determination of Alkaline Phosphatase activity based on kinetic method using p-nitrophenyl phosphate (pNPP).
AutoZyme Alkaline Phosphatase is a single reagent system, using one step procedure.
AutoZyme Alkaline Phosphatase has one step reconstitution. It involves dissolving Substrate tablet in Diluent
AutoZyme Alkaline Phosphatase is a High Stability Reagent.
AutoZyme Alkaline Phosphatase is linear upto 700 lull.
Alkaline Phosphatase activity can be determined in just 215 minutes.
AutoZyme Alkaline Phosphatase can be used on any Spectrophotometer, Discrete semlautomated and Automated analyzer. Programme can be designed for any specific analyzer upon request.

Principle:
Alkaline Phosphatase cleaves p-nitrophenyl phosphate (pNPP) into p-nitrophenol and phosphatase. p-nitrophenol is a yellow color compound in alkaline medium and absorbs light at 405 nm. The rate of increase in absorbance at 405 nm. is proportional to Alkaline phosphatase activity in specimen.
Specimen Collection & Preservation:
Blood should be collected In a clean dry container. Haemolyzed specimen should be avoided as it may falsely elevate results. EDTA, Citrate and Oxalate inhibit Alkaline Phosphatase activity and should not be used as anticoagulant.
For plasma separation any of the following two anticoagulants may be used
HEPARIN 200 ml blood
SODIUM FLUORIDE 10 mg/ml blood

Serum /plasma should be separated immediately from cells. Alkaline Phosphatase is stable for 4 days at 2 - 8°C and several months when stored at -10°C.
Available Products:
Product Name

Company

Pack Size

Alk+Phos

Accurex

12x5ml

Agape

2x30ml

Beacon

30x1.2ml

Spinreact

240+60ml

Avecon

5x10ml

Ozon

5x10ml

Merk

4x20ml

Labcare

50x1ml

Yucca

50Test

Biolab

15x1.2ml

Crest

10x3ml

Reckon

50x1ml

Delta Lab

25x1ml

Transasia

2x50ml/10x1.1ml

Vital

10x1.1ml
MOQ: 50 to 100 kits.
Product Details:
| | |
| --- | --- |
| Calcium | 4X25ML |
| Packing Type | Boxes |
| Application | Medicinal, Clinical |
| Creatinine | 4X50ML |
| Cholinesterase | 2X10ML (S.L) |
| Cholesterol | 5X100ML |
Agappe diagnostics bio chemistry products:
| | |
| --- | --- |
| Products | Pack Size |
| Albumin+T.Protein | 4x50ml |
| Alkaline Phosp. | 2x30ml |
| Billirubin | 4x50ml |
| Billirubin Total Tab | 4x50ml |
| Calcium | 4x25ml |
| Cholesterol | 5x100ml |
| Cholinesterase(S.L) | 2x10ml |
| Creatinine | 4x50ml |
| Direct Hdl Cholesterol | 2x40ml |
| Direct Hdl Cholesterol | 2x60ml |
| Direct Ldl | 2x40ml |
| Enzymatic Creatinine | 4x60ml |
| Gamma Gt | 2x30ml |
| Gamma Gt (S.L.) | 2x10ml |
| Glucose | 4x500ml |
| Glucose God/Pod | 4x250ml |
| Hba1c Direct With Calibarator | 1x2+2x15 Ml |
| Lipase | 1x25ml |
| Liq.Amylase | 1x10ml |
| Liq.Cholestrol | 5x25ml |
| Liq.Cholinesterase | 5x3ml |
| Liq.Ck-Nac | 2x30ml |
| Liq.Glucose (GOD/POD | 5x100ml |
| Liq.Ldh | 2x30ml |
| Liq.Sgot | 3x50ml |
| Liq.Sgpt | 3x50ml |
| Liq.Triglyceride | 5x25ml |
| Phosphrous | 4x25ml |
| Sgot | 4x50ml |
| Sgpt | 4x50ml |
| Triglyceride | 6x50ml |
| Triglycerides Powder | 5x20ml |
| Urea [BUN] | 2x125ml |
| Urea Uv | 2x50ml |
| Urea Uv | 2x125ml |
| Uric Acid | 2x30ml |
| Uric Acid(S.L) | 2x50ml |
Trade Information
Mumbai

Cash in Advance (CID)
500 Per Month

10 to 6 Week
Contact Us
B/102, Ist floor, Daftary Complex, Nr. Kalyani children hospital, M.B Estate, Off C.S.road, Virar (West), Virar, Maharashtra, 401303, India
Phone :+918045801169